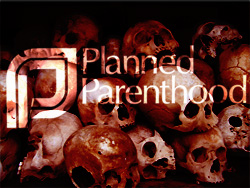 by Joseph Lawler –
Whether or not Planned Parenthood survives the negotiations to prevent a government shutdown, Republicans will have scored a victory if the episode draws more attention to what it is the organization actually does.
Planned Parenthood has done a great job of using the media to cultivate an image of a squeaky-clean organization that provides such unobjectionable-sounding itmes as reproductive health services and family-planning aids in order to prevent unwanted pregnancies and reduce the need for abortion. Despite the fact that the wider media consistently describes them as such, that depiction is not accurate. It can't be overlooked that Planned Parenthood performs abortions on a massive scale: 332,278 abortions in 2009, more than one-quarter of all abortions nationwide.
Planned Parenthood has success disguising its primary role as an abortion provider, often by claiming that abortions only constitute 3 percent of the services they provide. For instance, this post by the Washington Post's Ezra Klein is a perfect example of a reporter uncritically reproducing that claim (he even encourages readers to visit Planned Parenthood's own site for context), including this misleading chart (also from Planned Parenthood):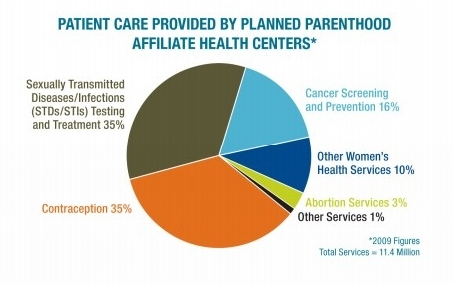 This misleading presentation is nothing new. In 2007, Charlotte Allen explained that Planned Parenthood bundles services for the purpose of minimizing the role of abortions:
Underneath this veil of media and show-business gossamer is an organization that, contrary to the impression it works hard to create, focuses obsessively on abortion, providing ever more abortions every year, reaching out to an ever-younger clientele. The 3 percent pie slice in the 2005-06 financial report, representing 264,943 abortion customers served, can only be described as deliberately misleading.

One way Planned Parenthood massages the numbers to make its abortion business look trivial is to unbundle its services for purposes of counting. Those 10.1 million different medical procedures in the last fiscal year, for instance, were administered to only 3 million clients. An abortion is invariably preceded by a pregnancy test–a separate service in Planned Parenthood's reckoning–and is almost always followed at the organization's clinics by a "going home" packet of contraceptives, which counts as another separate service. Throw in a pelvic exam and a lab test for STDs–you get the picture. In terms of absolute numbers of clients, one in three visited Planned Parenthood for a pregnancy test, and of those, a little under one in three had a Planned Parenthood abortion.
For those reasons, I think this graphic, taken from Planned Parenthood's   data, better illustrates Planned Parenthood's activities: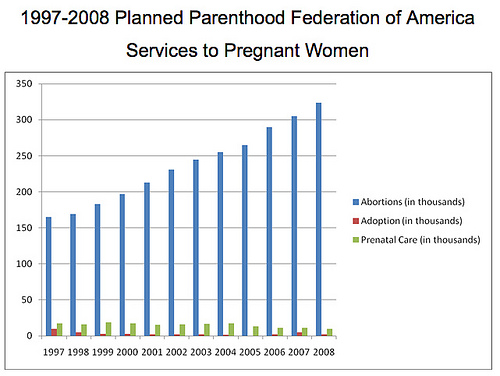 Planned Parenthood also spent more than $1 million electing Democrats last year. Taxpayers should not be asked to fund a partisan lobbying organization that performs a quarter of all the abortions in America.