Just as Bach drew church congregations into the drama of Christ's Passion in his day, so now, Metropolitan Hilarion is offering our post-modern world a corresponding experience with his original St. Matthew Passion, a profound piece of music that combines Gospel narrative with liturgical texts of the Orthodox Church.

This is the beginning of 'St Matthew Passion' by Bishop Hilarion Alfeyev. Conductor: Vladimir Fedosseyev. Performed in the Great Hall of Moscow Conservatoire on 27 March 2008.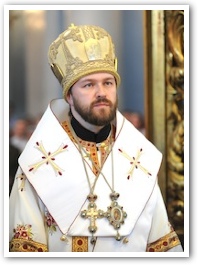 Part I. The Last Supper
The choir sings: Come, let us sing a holy lament to Christ. Alleluia. O Lord my God, I will sing to Thee a funeral hymn. Alleluia. Thine all-holy Mother weeps for Thee lamenting. Alleluia.
Hilarion Alfeyev: St Matthew Passion. No 1
http://www.youtube.com/watch?v=bsUbmCoMP1Y&feature=player_embedded
St Matthew Passion is a monumental work, composed for soloists, choir and orchestra.
This composition combines a traditional approach with a clarity and originality of presentation. It is the work of a professional composer, seeking inspiration in the traditions of church music of Eastern and Western Christianity, a composer who has also, in many years service as a priest, brought the word of God to His people. This composition is unique in the history of contemporary music, in its musicality, its variety and coherence, and its emotional and spiritual depth.
The work is based on the description of the passion and death of Christ as told in the Gospel according to St Matthew. This story is divided into sixteen parts and performed in Russian in the style usually adopted for the reading of the Gospel in Orthodox churches. Excerpts from the Gospel are interspersed with music recitative, choruses, fugues and arias the text of which is mostly taken from the services held by Orthodox Christians during Holy Week. Occasionally the text has been simplified or otherwise adapted by the composer. Some pieces are for orchestra alone, others for choir alone, while in many both appear, complementing each other.
The work is divided into four thematic parts, each of which has its own composition, including various pieces for choral, orchestral and solo performance. Within each part, the pieces are performed without interruption. Each part contains a fugue, which constitutes one of the most important structural elements of the work.