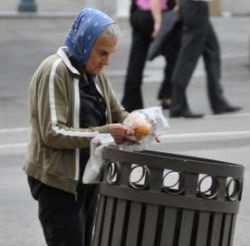 9/12/2010 – Catholic Online –
Since President Barack Obama has taken office, the numbers of America's poor has steadily climbed. Working-age poor people are reaching the levels of the 1960s, before the national war on poverty.
Census figures for 2009 are to be released this week, and demographers expect troubling statistics.
The findings come at a most unfortunate time – seven weeks before Congressional elections, with many Democrats and Obama supporters expected to be voted out. The expected increase, from 13.2 percent to about 15 percent people living below the poverty line, would be another blow to Democrats struggling to persuade voters to keep them in power.
If these estimates hold true, some 45 million people in this country — more than one in seven, were poor last year. It would be the highest single-year increase since the government began calculating poverty figures in 1959. The previous high was in 1980 when the rate jumped 1.3 percentage points to 13 percent during the energy crisis.
"The most important anti-poverty effort is growing the economy and making sure there are enough jobs out there," Obama said at a news conference last week. The president stressed his commitment to helping the poor achieve middle-class status. "If we can grow the economy faster and create more jobs, then everybody is swept up into that virtuous cycle."
Among the 18-64 working-age population, the demographers expect a rise beyond 12.4 percent, up from 11.7 percent. These figures would make it the highest since at least 1965, when Democratic president Lyndon B. Johnson, launched the war on poverty.
Demographers feel that the report will also show child poverty increasing from 19 percent to more than 20 percent. In addition, the figures will show that African Americans and Latinos were disproportionately hit, based on their higher rates of unemployment.
Metropolitan areas that posted the largest gains in poverty included Modesto, California, Detroit, Cape Coral-Fort Myers, Florida, Los Angeles and Las Vegas.
"My guess is that politically these figures will be greeted with alarm and dismay but they won't constitute a clarion call to action," William Galston, a domestic policy aide for President Bill Clinton says. "I hope the parties don't blame each other for the desperate circumstances of desperate people. That would be wrong in my opinion. But that's not to say it won't happen."
HT: Catholic Online