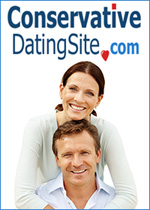 ConservativeDatingSite.com | Jan. 1, 2010
A new website dedicated exclusively to Conservative Singles has been launched. The site, located at www.ConservativeDatingSite.com, was created in order to serve the needs, interests, beliefs, and traditional values of the large and growing conservative community in the United States and around the world.
We welcome everyone to have a look around the site and see what it has to offer. Registration and regular memberships are FREE for all conservatives.
We believe this venue is a much-needed service for the many Conservative Singles out there who are looking for a friend, a companion, or are ready for a serious long-term relationship.
Conservative Dating Site.com
http://www.conservativedatingsite.com

We hope that all the effort invested in making this site a reality will be appreciated by conservative members who are looking for a community that suits their unique personalities, interests, and beliefs.
. . . more