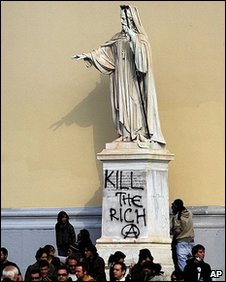 In case anyone was wondering what communists think of anyone who has the motivation and drive to start a business, run a company, or "make money" in a free-market economy, check out the "Kill the Rich" graffiti on this statute in Greece. Interestingly enough, the Athens statute the leftists chose to deface is that of an Orthodox Christian hierarch.
Greeks fear times will get tougher
BBC News | Dec. 10, 2009
Fears that Greece will be unable to pay off its debts, after a cut in its credit rating, are reflected by a deep pessimism on the streets, says Philip Pangalos in Athens.
Most ordinary Greeks are increasingly fed up with government pledges to deal with the country's mounting fiscal woes, the reality that tougher times lie ahead and that they will probably have to foot the bill.
But it is time to pay the piper after years of wasted opportunities and an inability to by successive Greek governments to deal with a string of looming economic problems.
The gloomy mood is palpable on the streets of Athens.
"The economic situation here is dismal and I don't see any improvement any time soon," says Stefanos Dallas, a 42-year-old consultant.
"I'm living from month to month and have resorted to borrowing money from friends and family to make ends meet. This is not a way to live."
'One more last chance'
Greece's budget deficit is forecast to reach 12.7% of GDP this year – more than four times the maximum 3% allowed for eurozone members – while public debt levels are ballooning and are forecast to top 120% of GDP next year.
At the same time, tax evasion is rampant and is said to cost Greece some 30bn euros (£27bn) each year, which is more than the annual deficit, while analysts say the state pension system is facing collapse in the next decade unless urgent reforms are undertaken.
[…]
But Mario, a 30-year-old kiosk owner in the centre of Athens who did not want to give his surname, said times were now tougher for ordinary Greeks and everybody was feeling the effects.
"I see less business month-by-month, my turnover is down by about 3%. I work at least 12 hours every day and I still find it hard to make ends meet," he said.
The Athens stock market plummeted this week following downgrades from international credit rating agencies. It means it is likely to have to pay a much higher interest rate when it issues bonds next year to help finance the country's borrowing needs and service its existing debt mountain.
Cynical
Apostolos Mokos, a cafe owner in the centre of Athens, believes Greeks like him will have to pay the price for a problem that he says is ultimately down to American banks.
"I'm 28 years old and I don't think I'll ever be able to retire or get a pension as the whole pension system will have probably been abolished by the time I reach retirement age," he says.
"As far as business is concerned, from my experience, times are tougher than in recent years and I don't spend as freely as I used to. At the same time, we face higher taxes on everything."
. . . more