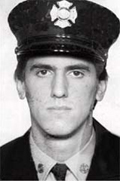 by Adam Leiter | Sep. 11, 2009
The best way for me to remember 9/11 is to remind everyone of my friend FDNY Firefighter Tommy Gardner, lost in the South Tower on 9/11/01.
He and I were in first grade class together at PS 107 in 1968, in Flushing, Queens, NY. We were in every grade and school together until we graduated high school in 1980. He joined FDNY in 1982. He was in several FDNY units, the last being Hazmat 1.
We were in sporadic contact all the years until 9/11/01, when he responded to the WTC. He had called me a few years before 9/11 to ask about going into HazMat operations. He wanted to know if I thought it was a good idea. I told him it was a great challenge and a great idea. He later called me from San Diego, where he was attending a Hazmat training course to tell me he had made the right decision and he wanted to thank me for my help. He told me he was really enjoying the Hazmat career in FDNY. I knew he meant it. He was a genuine gentlemen and a genuine good guy. He was also a very gentle person. His parents still live in the same house he grew up in, just like mine, in Flushing. His Mother and my Mother still see each other in the grocery store frequently. They had just seen each other shortly before 9/11 and passed on best wishes to all.
Tommy was on the morning shift at his firehouse in Maspeth, Queeens on 9/11. His shift started at 8 or 9am but he arrived early that day. The firehouse was on a high point that had an incredibly clear view of downtown Manhattan and the WTC. He was just going on his shift when the American Flight hit the north Tower. Everyone in the house was easily able to see the plane hit the Tower or the fire right after. The Firehouse was shared by 2 units of FDNY, his unit Hazmat 1 and Squad 288. Nineteen men from both units responded to what they saw in front of them at the WTC. Many of the men were not on their shift but went anyway. Many didn't need to go. They jumped in their trucks and drove from Queens to Manhattan to downtown to ground zero. Enroute, the second plan hit the South Tower.
All nineteen perished. Not one of the nineteen survived to talk about it again or to see their children or their families again. Tommy was one of the nineteen killed that day.
I found out that he entered the South Tower upon arriving at Ground Zero with his unit. As a Hazmat unit, they would have been needed badly to deal with the Jet Fuel spilling throughout the buildings. They were trained in exactly this type of situation. Years of training all to be wiped away in a second. They were probably sent right up the stairs to the point of impact to help deal with the fuel and the fire.
I talked to Tommy's Mom three days after 9/11. I had arrived back in NY that day and I wanted to talk to Tommy. I called his Mom to get his number and she told me no one had heard from him since he arrived for his shift that morning on 9/11. I told her I was certain he would be ok. That was the only thing I could tell her. I knew inside it wasn't true. Next time I saw his family was at his funeral in October 2001. Mayor Guiliani was there and spoke. He was very eloquent and strong. There were at least 500 people at Tommy's funeral. Firefighters from all over the country came to his funeral as well as all of the 343 lost. They lined the street single file in formation for 2 blocks outside the church. Six huge fire trucks were lined up on both sides of the street with their ladders extending out above the street till they met to form an upside down v above the street.
Tommy's remains have never been found. Instead of a gasket at the funeral, they used a board with an American flag draped over it with one of his old FDNY helmets and an old badge on top of it. His helmet and badge really smelled badly like smoke. Tommy's wife and 2 children (son aged 9 and daughter aged 11) followed this board down out of the church and onto the street. The thing I remember most about any of this was how hard his children were crying as they walked by me. In particular, his son was 9 and obviously very close to his Dad and he was completely overcome. I have never seen anyone cry so hard. He cried and cried and cried. I will never forget his son's face that day. All of us who saw his son started to cry with him. There was no way to not cry in this situation.
As time goes by, people seem to be forgetting about the loss and pain that was suffered on 9/11. I try to tell people about my buddy Tommy so he and all the others lost will not be forgotten. Its one thing to think about the Firefighters and the others lost and what they went through that day. Its another thing to think about the families they left behind and the pain they will have to endure the rest of their lives. I will never forget how hard Tommy's son cried at his funeral. I hope you get something of an idea from this email. It is something that no one should ever have to live through. I am sure Tommy's entire family cries frequently when they think of Tommy, especially today on 9/11.
No one should ever forget the pain and suffering from that day. Tommy's family never will be able to forget. Please do not forget 9/11 and Tommy and all others lost – and their families.
Thank you.
Adam Leiter
---
Please open the link below which is all about the 2 FDNY units Hazmat 1 and Squad 288 and the men lost on 9/11: www.queenstribune.com/archives/featurearchive/feature2002/0328/feature_story.html
This is a tribute to Tommy written and posted on a 9/11 website:

Thomas A. Gardner: Of Science and of Laughter
Like a tree, or a starfish, Thomas A. Gardner reached in many different directions.
He was a 39-year-old firefighter who spent more than a dozen years battling blazes in Harlem, then moved on to the city's elite hazardous-materials unit in Queens.
He was a father and husband who taught his family to love canoeing and hiking and animals the way he did. He was an aspiring science teacher, who put himself through Queens College while working full time at that Harlem firehouse. He could wing one-liners with the best of them, and sold jokes to Henny Youngman and Joan Rivers.
He also played hockey for a Long Island team, with his older brother, Joseph. And with a fellow firefighter from Hazardous Materials Company No. 1, he performed in a comedy routine broadcast on a Long Island radio station.
"Originally, he was supposed to sit in the back and pass ideas along," said his wife, Liz. But sitting in the back was not his style.
At Queens College, his professors were amazed by his inquisitiveness and enthusiasm. "He had this intense curiosity about all the aspects of science," said one of them, Mark G. Miksic. At one point, they invited him to lecture, and he was a hit. Now the college has the Thomas A. Gardner Award, for students planning to teach science.
"There are a lot of people who are full of themselves, but Tom was never full of himself," said Rob Koudelka, his friend from Engine Company 59, known as the Harlem Zoo. "He never thought he was the smartest guy. He wanted to become smarter. And he never thought he was the best at anything. He wanted to get better."