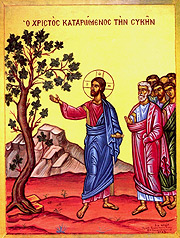 by Patriarch Kirill of Moscow and All Russia –
Each day of Passion Week is marked by special commemorations. After His triumphant entry into Jerusalem, the Lord went every evening with His disciples to the Mount of Olives after spending the day in the Holy City. During these days He turned to them with words that are especially powerful and filled with profound meaning, words that reveal the mysteries of the Kingdom of God and open the curtain to the future of the entire human race.
Monday is associated with particular events. Along the way to Jerusalem, the Lord and His disciples saw a fig tree covered with rich foliage. When the famished travelers approached the tree, the Lord began to look for fruit but did not find a single one. He then cursed the fig tree.
It is well known how critics of the Gospel – people who for various reasons could not and cannot accept the word given to the human race by the Lord Jesus Christ – have criticized this passage. St. Innocent of Kherson responds to this criticism in remarkable manner. According to his words, it was not, of course, as if the Lord was offended by the fig tree and said: "I wanted to taste of the fruit, but there was none – so may you be cursed." This is not at all what the Savior wanted to say; rather, He cursed the fig tree to give us an example of how barrenness is punishable. [Read more…]