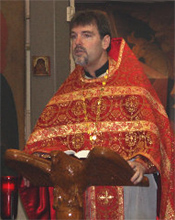 by Fr. Jonathan Cholcher –
Orthodox preaching needs to be good preaching. To be good, Orthodox preaching must not only deliver good content, but it must strive to make the hearers good. Therefore, good Orthodox preaching is the Gospel (lit., good news) proclaimed and lived.
Four characteristics mark good Orthodox preaching:
Christ crucified and risen;
the language, or rationale, of Scripture;
plain discourse; and
attention to the experience of salvation through the Gospel.
All Orthodox preachers exhibit these traits beginning with Christ Jesus, the apostles, and the prophets. They only preach what they themselves have come to know.
First, Orthodox preaching is the Word, the Logos incarnate Who was crucified and raised to redeem the world from sin, death, and the power of the devil. [Read more…]