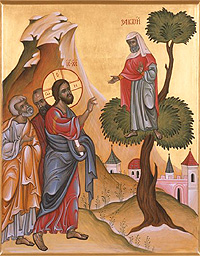 by Fr. Patrick Henry Reardon –
St. Luke's account of Zacchaeus in the sycamore tree (19:1-10) is a story rich in spiritual reflection; preachers and Bible-readers, coming from a variety of backgrounds, have explored the narrative unto great profit for the education of the soul.
A certain liturgical use of the text is particularly instructive; namely, the story of Zacchaeus has long been read in the dedicatory service of a new church building. This liturgical custom—warranted by Jesus' assertion, "Today, I must stay at your house" indicates a symbolism: The home of Zacchaeus represents the consecrated places where Christians gather to meet, worship, and commune with Jesus.
There is an irony here: Even as we insist that Jesus preached the Gospel to the poor, he sometimes did so in the homes of wealthy. The reason was very simple: the wealthy had larger homes; a greater number of people could actually assemble there. (Some folks, doubtless, will be offended by this consideration, but let me mention that the first complaint [Read more…]