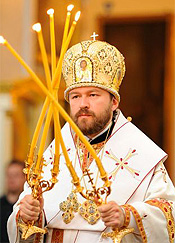 by Metropolitan Hilarion –
In the Name of the Father and of the Son and of the Holy Spirit!
In today's Reading of the Gospel, we heard the story of how our Lord Jesus Christ, at the request of His disciple, fed up a multitude of people with bread and fish. The Gospel speaks of five thousand men who were fed by the Lord, not counting women and children. So, we do not know the exact number of people. The Lord fed them with five thousand loaves and two fishes.
This miracle of the multiplication of loaves in a desert reminds us that the Lord is the Giver of every blessing, the Giver of both material and spiritual food. It is not accidental that every time before eating we ask the Lord to bless our meal and after the meal we thank Him for satisfying us with His earthly gifts and ask that He may not deprive us of His Heavenly Kingdom.
This miracle of the multiplication of loaves in a desert reminds us that the Lord is the Giver of every blessing, the Giver of both material and spiritual food. [Read more…]