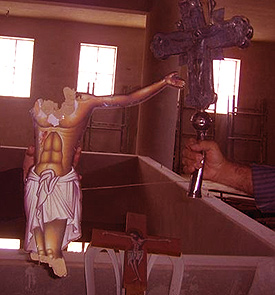 by Editors –
Obama's and John McCain's friends in Syria – the so-called "Syrian rebels" continue to bring death and destruction upon Christians and Christian churches in Syria. They're nothing more than bloodthirsty killers seeking to impose Islamic law on the Syrian people.
The following describes some of the latest atrocities committed by Obama & McCain's supposed allies in Syria:
DAMASCUS, SYRIA (BosNewsLife)– Mourning Christians in Syria were still awaiting answers Monday, July 8, as to why  Islamic militants with links to opposition rebels entered Christian villages more than a month ago killing several people,  including children, in what locals called a "massacre".
Vatican-backed news agency Fides said the gunmen raided the village of al-Duwayr/Douar, outside the city of Homs near Lebanon, where they immediately executed a man and his daughter in their home and burned their bodies.
The fighters reportedly also occupied the village church from where snipers began firing at terrified civilians, killing an- 11-year-old boy and a girl of 18, [Read more…]