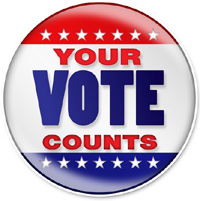 by Fr. Patrick Henry Reardon –
This year's elections involve an attempt to usurp an authority that belongs properly to God. Vote wisely, therefore, and in the fear of God. This year—more than any time in my memory—our votes in the election are going to be recorded in eternity.
Since political elections normally deal with matters of policy, I do not normally make them the subject of pastoral concern. This year, however, the national elections in our country are not concerned simply with policies but with principles.
My first comment, I suppose, should address that difference.
About policies—most questions of political concern—we may expect some legitimate disagreements among Christians. Among these we should include questions about the application of civil punishments, the funding of public education, the tax code, the authority of federal agencies, this or that social program, and so forth. These matters, properly governed by prudence, leave much room for legitimate disagreements among Christians. [Read more…]