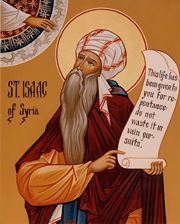 by Fr. Johannes Jacobse –
We live in very uncertain times. I don't think I have ever seen such a widespread uncertainty in my lifetime. My parents saw it since they lived through WWII and the wrenching hardship that placed on them, but many of us only knew the prosperity of the post-war boom that lasted through most of our lifetime.
Some of this trouble is of our own making. We have left off God to a degree, thinking that the security and certainty we had was a kind of birthright instead of recognizing that progress and liberty is hard-won, and must be nurtured and preserved from generation to generation. We tend to forget that "every good and perfect gift comes from above, from the Father of Lights…" as we say at the conclusion of the Divine Liturgy (a verse taken from James 1:17).
When we forget God, morality breaks down, and when morality breaks down then the society we build for ourselves begins to fray and may even unravel.
Last year, the Chief Rabbi of England gave a speech expressing just this point. In his article "Has Europe Lost its Soul?" he argues that when the spiritual vitality of a people dies, so does their culture. The speech was very well received and ended on a hopeful note:
We should use this moment of recession to restore to their rightful place in society the things that have value but not a price: marriage, the family, home, dedicated time between parents and children, the face-to-face friendships that make up community, the celebration of what we have not the restless pursuit of what we don't, a sense of gratitude and thanksgiving, and a willingness to share some of God's blessings with those who have less. These are the true sources of lasting happiness and have been empirically proved to be so.
I think the present time of distress is also a call from God to restore in our own lives the things that were muddled or maybe even lost. We will face hardship. I think that is inevitable. But the hardship is also opportunity because it can bring a focus and clarity about the needful and important things that get lost and will have very grave consequences for us if they are not recovered.
And this recovery begins with us — with the way we live our personal lives, the way we treat our wives, husbands, children and every other person we deal with in our everyday life. When we find ourselves, we help other people find themselves because we live our lives in a more truthful and authentic way. And the source of that truth and authenticity is always He who is Truth — Jesus Christ.
When we forget God, morality breaks down, and when morality breaks down then the society we build for ourselves begins to fray and may even unravel.
So just as uncertainty and hardship drives us to our knees to ask God for help, so is the prayer that if fosters the first step in dealing with crisis in a creative and responsible way. When we begin to be more ordered on the inside by referencing ourselves to Him who created us, then our exterior lives become more ordered as well. We find the clarity of mind, courage, hope, creativity — all the virtues that come from God that are necessary to face the present uncertainty — so that in the end we will not fall but stand.
None of us are called to save the world. That is Christ's job. But we are called to save ourselves in Christ, and in so doing bring needed clarity into our corner of the world. That's our job. St. Peter, the patron of our parish gives us some good advice:
Therefore gird up the loins of your mind, be sober, and rest your hope fully upon the grace that is to be brought to you at the revelation of Jesus Christ; as obedient children, not conforming yourselves to the former lusts, as in your ignorance; but as He who called you is holy, you also be holy in all your conduct, because it is written, "Be holy, for I am holy" (1 Peter 1:13).