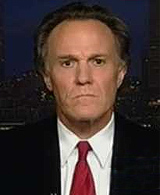 by Dr. Don Boys –
Frank Schaeffer is a pathetic figure. Son of famous, dedicated Christian leader Francis Schaeffer, he has declared his distaste for his father's activities in the service of Christ. Frank has apostatized from his and his Father's theology and politics as revealed in a recent television interview to promote his new book while at the same time bashing Christian authors for making gobs of money with their books! In that interview he declared that "Nobody is damned or going to Hell," Christians are haters for being critical of abortion and gay rights; and "salvation is a journey."
He added, "Atheism may be absolutely correct, or Buddhism may be. I could be completely wrong about theism." Moreover, Dawkins, Hitchins, and Harris "could be right"! He declares that "Right Wing Christians" are "far more dangerous than the Dawkins [atheist] group." Question: Why hasn't Frank's church brought him up on charges of heresy? Is his pastor as big a phony as he is?
He proudly said, "I'm an enormous fan of Obama. He's a Christian and the greatest political leader of my lifetime." He supported Obama for President although he claims to be an Independent, the only thing he and I have in common other than our gender. He is very critical of Americans who are critical of Obama, "telling lies about his birth or paling around with terrorists." Like many worshipers of Obama, they refuse to admit Obama's close ties with American-grown terrorists like Bill Ayers, Bernardine Dohrn, Frank Marshall Davis, and others. Moreover, to call Obama a Christian (not simply a church member) would gag a #####.
Throughout the interview he constantly drops names of former friends like Pat Robertson, Jerry Falwell, Tim LaHay, Jerry Jenkins, George Bush, Jack Kemp, etc., all of whom he now criticizes.
It is no surprise that he is an evolutionist, affirming, "We are an evolving species." He declared that "None of us has access to the truth." Well, Christ said, "I am the truth" and "Ye shall know the truth," so we obviously must have access to truth. However, Frank would not know the truth if it smacked him down.
Schaeffer scrapes the bottom when he tells of traveling on trains in Europe as a teen when his mother would seek to lead people to Christ as he sat, head in hands, cringing with shame. Wonder what his mother would think if she knew how far the "apple" had fallen from the tree? Rotten apple that is.
In an article dated April 1, 2010, he linked the Michigan Hutaree Militia group to people like "the Jack Van Impe ministries." That is outrageous and irresponsible journalism. I have had problems with Jack after he turned from his original Independent Baptist roots to "anyone who will support our ministry and buy our books and tapes" group. I think he sold out to stay on television, but that is his problem. Jack is not a hater or terrorist but Frank is a fool.
He boasts of predicting violence by Christians who are members of the "left behind cult." However, only a fool, a liar, or a nut suggests that the hate-mongering militia groups are of that persuasion other than believing in a small portion of Christian eschatology. Moreover, not all militia groups are extremists.
He speaks of "religious paranoia boiling in the Tea Party" movement without documenting any examples. The Tea Party people, some of whom are longtime friends, are some of the best Christians and best people in America. Of course, every group has a few state-certified nuts lurking on the fringe—even the Greek Orthodox Church! Lurking is one thing Frank does best.
Frank then made a super dumb statement, but then it is difficult to delineate the dumb from the super dumb since he made so many. He wrote, "Jerry Jenkins and Tim LaHaye's Left Behind series of sixteen novels (so far!) represents everything that is most deranged about religion. What happened with this militia group [in Michigan] is that their paranoid, deranged fantasy jumped from the page into sick brains and was turned into action." Evidently, Frank is a part-time psychologist or is into mind reading.
I don't know Jenkins but I do know Tim LaHaye, and while Tim would be to the theological left of me, he is a noble, generous, kind, committed Christian leader who has been libeled by a pathetic son whose claim to fame is having been born to godly talented parents—parents who still embarrass him, yet whom he chooses to constantly "put down" whenever the cameras are rolling.
Playing the role of psychologist, I am convinced that Frank lives with "demons" because of his rejection of Bible Christianity and rejection of his heritage—all for a mess of pottage. I hope it chokes him.