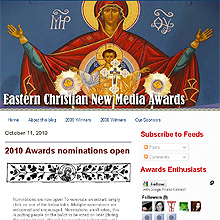 10/11/2010
Nominations are now open for the best Orthodox blogs in 2010! To nominate an entrant click on the link listed below and select that Category that you would like.
Multiple nominations are welcomed and encouraged. Nominations aren't votes, this is putting people on the ballot to be voted on later (during the voting phase). We will be accepting participants until October 31st. The categories this year have expanded by two since 2009.
Eastern Christian New Media Awards: 2010 Awards Nominations
http://ecawards.blogspot.com/2010/10/2010-awards-nominations-open.html
If you like the work that it's being done on this blog, kindly consider nominating the OrthodoxNet.com Blog for the specific Category that best fits the articles, editorials, and other information regularly being posted here.