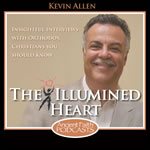 AFR – The Illumined Heart | Kevin Allen | Jun 5, 2009
This is one of the most perplexing questions for all Christians. In this episode of The Illumined Heart, host Kevin Allen engages author and theologian Dr. Jerry Sittser, author of the book "When God Doesn't Answer Your Prayer", in an honest conversation about this often ignored question. His answers are not academic or simply formulaic and come from the deep and hard places.

Why Doesn't God Answer My Prayer? – 6/5/09 http://audio.ancientfaith.com/illuminedheart/ih_2009-06-05_pc.mp3|titles=Why
Direct Link to Audio file (right-click to download)
Why Doesn't God Answer My Prayer?
Join Kevin Allen each week on The Illumined Heart podcast on Ancient Faith Radio. Featuring insightful interviews on subjects of faith, theology, history, comparative religion and personal faith journeys with Eastern Orthodox Christians (and others!) you should know!
You can visit Kevin, post a comment, or contact him by going to his website, The Illumined Heart
. . . more