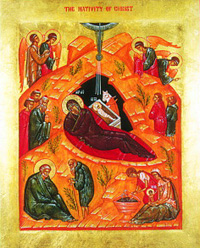 OCA | Metropolitan Jonah | Dec. 25, 2008
Christ is Born! Glorify Him!
Dearly Beloved in Christ,
Lo, the time of our salvation draweth nigh! Make ready, O Cave! The Virgin approacheth to give birth! O Bethlehem, land of Judah, Adorn thyself and rejoice, For from thee hath our Lord shone forth! Hearken, ye mountains and hills, And ye parts of Judea, which lie round about, For Christ cometh, That He might save man whom He created, In that He loveth mankind!
From of old God worked with the people of Israel, the children of the Covenant, to bring forth Christ. He made the covenants with Abraham, Isaac and Jacob; with Moses; with David. He sent the Prophets to announce His will, so that the people might be called to obedience and hence, to life. Finally God sent His Son into the world as the ultimate Mystery of the relationship between Himself and man: the New Covenant, God dwelling in man, and man in God.
Jesus is the revelation of the New Covenant given by God, the revelation of the very goal of creation itself: union, synergy, cooperation, love.
Christ is born! He comes in humility, to show us the way of God.
Christ is born! He comes to empty Himself, and reveal God in human form.
Christ is born! He became everything that we are,
that we might become all that He is.
Christ is born! Born in the cave and laid in the manger;
yet His glory shone from the manger as from the Mercy Seat.
Christ is born! All the angels and the whole creation rejoice!
Christ is born! Empty of self in the poverty of humility.
Christ is born! Radiant in the glory of His divinity,
shining in the obscurity of human darkness.
Christ is born! Enlightening with grace all creation.
Christ is born! The pledge of the Age to Come:
The radiant Coal of the deified New World.
. . . more