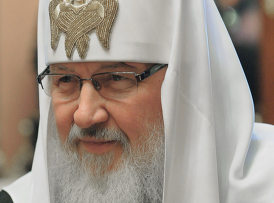 AOI | Feb. 5, 2010
Russian Orthodox Church leaders called on Christians on Thursday to be firm in defending traditional marriage and lamented the family crisis in the country.
According to some estimates, over half of the marriages in Russia end in divorce. Women in the 140-million-strong country undergo some 1.5 million abortions annually."We, Christians of different denominations, should profess the inviolability of the evangelic norms on the holy matrimony between man and woman," Patriarch Kirill of Moscow and All Russia said in a welcome message to participants of an inter-Christian forum for former Soviet republics held in Moscow.
Christians, he said, should "openly testify that deviation from the God-given fundamentals of marriage cannot contribute to forming a healthy individual."
Another top church official, Metropolitan Hilarion of Volokolamsk who heads the Russian Orthodox Church's external relations department, criticized today's morality.
"Today the scale of priorities for many people looks totally different than what is in line with Christian tradition. Freedom, permissiveness, acquisitiveness, lust for success and career aspirations are in first place rather than traditional spiritual and moral values, family, marital fidelity or giving birth to children and raising them," he said.
"Abandoned children, a huge number of divorces… a high number of suicides and abortions indicate a deep crisis for the family and social relations," Hilarion said.
. . . more