AP | Seth Borenstein | August 8, 2007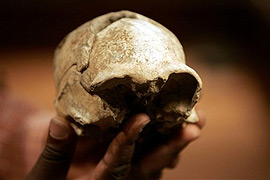 WASHINGTON – Surprising research based on two African fossils suggests our family tree is more like a wayward bush with stubby branches, challenging what had been common thinking on how early humans evolved.
The discovery by Meave Leakey, a member of a famous family of paleontologists, shows that two species of early human ancestors lived at the same time in Kenya. That pokes holes in the chief theory of man's early evolution — that one of those species evolved from the other.
And it further discredits that iconic illustration of human evolution that begins with a knuckle-dragging ape and ends with a briefcase-carrying man.
The old theory is that the first and oldest species in our family tree, Homo habilis, evolved into Homo erectus, which then became human, Homo sapiens. But Leakey's find suggests those two earlier species lived side-by-side about 1.5 million years ago in parts of Kenya for at least half a million years. She and her research colleagues report the discovery in a paper published in Thursday's journal Nature.
. . . more