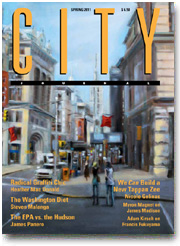 by Sol Stern & Patrick J. McCloskey
They're still the best hope for poor, inner-city kids.
Who can doubt that the fortunes of charter schools are on the rise? Philanthropists both liberal and conservative have been showering money on charters, viewing them as a promising alternative to traditional public schools because of their relative freedom from union contracts and education bureaucracies. The number of charter schools across the country has soared. Charters have even inspired movies, including the 2010 documentary Waiting for "Superman," which tells the story of several successful charter school networks in Harlem—where black and Hispanic parents, desperate to avoid the awful public schools, enter their children in lotteries to try to secure seats in the charters.
What's missing from this narrative, however, is an alarming fact: for every charter school recently opened in Harlem, two Catholic schools have had to close because of financial trouble. The same holds for New York City as a whole. Since inner-city Catholic schools have historically provided lifesaving educational choices for minorities and the poor, the result has been a net loss of good schools for Gotham.
To appreciate what's at stake, consider St. Aloysius School, a pre-K through eighth-grade Catholic school struggling to survive in its redbrick building in central Harlem. Named for the sixteenth-century Jesuit educator Aloysius Gonzaga, the school opened over 70 years ago as a haven for poor and working-class Catholic immigrant families. But as Harlem turned overwhelmingly non-Catholic, St. Aloysius kept its doors open, building a solid record of elevating the academic achievement of poor black children while spending less money than either public or charter schools.
The school's success offers crucial lessons to education reformers. St. Aloysius also exemplifies the new thinking and entrepreneurship that must emerge among Catholic schools if they are to survive. Above all, with political prospects for vouchers or even tuition tax credits dim in New York, St. Aloysius's financial woes—and those of the Catholic schools in general—have become a challenge for the same education philanthropists invested in the charter school movement, whether they like it or not.
…..
How much is it worth to New York to retain schools that are dealing with questions so essential to our society? It is painfully obvious that without a rescue effort, the number of Catholic schools in neighborhoods like Harlem will continue to shrink. The money certainly exists to mount such a rescue; for years, this glittering city has been awash in private philanthropic and foundation funds—hundreds of millions and perhaps billions of dollars—spent on an assortment of education-reform schemes, including charter schools, the creation of small public high schools, and bonuses for teachers and administrators.
There remains a fundamental imbalance in these charitable efforts when a school that creates such effective classrooms for disadvantaged children, and that also builds character and personal responsibility in its students, still has to worry about where next year's dollars will come from. Because the government has washed its hands of the problem, the future of schools like St. Aloysius has become an inescapable moral challenge confronting the city's education-philanthropy community.
---
Making Urban Catholic Schools Viable: Here's How
by Patrick J. McCloskey
Catholic schools, particularly those serving the children of the poor, have been hemorrhaging students for 40 years. As a result, half of the nation's Catholic schools have closed—and enrollment losses continue to outpace shutterings, imperiling most of the remaining schools. We risk seeing the whole system collapse, perhaps leaving behind some elite schools in affluent areas and a few in disadvantaged ones.
The public should be deeply worried about that scenario. As research since the 1980s has shown, Catholic schools do a stellar job of educating the urban poor; in New York City, for instance, parochial students consistently outscore their public school counterparts on city and state tests. Most remarkably, the more disadvantaged the students, the better they perform relative to their public school peers. In New York's inner-city Catholic high schools, over 80 percent of disadvantaged minority students graduate on time, almost doubling the public school rate. The schools accomplish all this despite spending just $10,000 per high schooler—a far cry from the New York public schools' $21,500. Should the Catholic schools collapse, taxpayers would be liable for the consequences: the cost of educating New York State's Catholic school students in the public system, estimates Archbishop Timothy Dolan, would be more than $3 billion per year. Nationwide, the cost would exceed $20 billion, according to the National Catholic Educational Association.
In recent years, urban dioceses across the country—for example, in Boston, Los Angeles, and Washington, D.C.—have belatedly concocted strategic plans, trying desperately to reverse the downward spiral. Others, such as Chicago's, are beginning the planning process. But the most ambitious of all the efforts to date is Pathways to Excellence, which the Archdiocese of New York unveiled last October. The reforms that Pathways will execute—coupled with several that it hasn't proposed—might just manage to save New York's vital Catholic schools.
Beginning in the 1970s, the cost of Catholic education increased sharply as the teaching religious orders withdrew and were replaced by lay teachers and administrators. The parishes running the schools hoped to recoup these rising costs through tuition. But this turned out to be shortsighted because around the same time, suburbanization was relocating two-thirds of Catholics away from the neighborhoods where two-thirds of Catholic schools remained. Moving into these areas were poorer families, mostly African-American and Hispanic. Few could afford tuition, which now averages $3,500 for elementary school and $7,500 for high school in New York—well below the actual cost of educating each student.
Pathways' most radical component is its proposal to replace this parish-run, tuition-dependent model with what it calls "regionalization." Parochial schools will be divided into five or more geographic regions, each governed by an archdiocese-supervised board of education. The costs of running the schools will be spread among all 2.5 million Catholics in the archdiocese, even in parishes that don't have schools. This is a controversial approach. Though regionalization relieves pastors of onerous administrative and financial responsibilities, many initially resisted ceding meaningful control of their schools. And though Dolan orchestrated considerable buy-in among affluent parishes, Pathways did bow to the wishes of some by allowing those still capable of supporting their own schools to opt out of regionalization.
HT: City Journal (read full article)