Kathimerini Danilo Schiavella December 15, 2006
Pact to mend ties signed at Vatican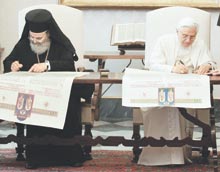 Pope Benedict XVI (right) and Archbishop Christodoulos sign an agreement following historic talks at the Vatican yesterday. The two religious leaders issued a joint appeal against religious fanaticism and violence.
Archbishop Christodoulos and Pope Benedict XVI, after a landmark meeting at the Vatican yesterday, issued a joint appeal against religious fanaticism and violence, and pledged to pursue "the difficult path of dialogue" in order to heal a centuries-old rift between their two churches.
In a joint statement signed following their talks, the two religious leaders also vowed to defend "the Christian roots of the European continent" and to promote "human dignity" and "respect for minorities." They also called on developed countries to "offer greater support to poorer states."
"We believe that all religions have a particular role to play in preserving world peace and that these (religions) should not develop into breeding grounds for intolerance and violence," the statement said.
Christodoulos, who is the first Greek archbishop to visit the Vatican, stressed "the need for collaboration of religions, and not only between the Christian churches."
But the statement also stressed the "urgent need for persistence on the road of constructive dialogue… to restore the desired unity of the (Christian) Church."
Benedict XVI added that both the Catholic and Orthodox churches must defend Europe's spiritual values against "the new risks that confront the Christian faith, namely growing secularism, relativism and nihilism." Christodoulos condemned the "trend of gradual de-Christianization of Europe, aimed at excluding the church from public life."
During his talks with the pope, Christodoulos took the opportunity to ask for the return of a piece of the Parthenon being kept in the Vatican museums. According to a Vatican spokesman, the pope was perplexed by the request, perhaps not aware that the vast museums contain the fragment, but said he would consider the request.
Christodoulos received a papal gift of two metal rings from the chain believed to have bound the Apostle Paul prior to his execution by the Romans.