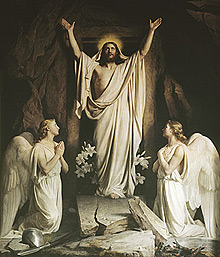 5/1/2010 – Regis Nicoll –
The resurrection is one of Christendom's deepest mysteries and, yet, no different in kind than the mystery of creation—whereby, man was formed from the dust of the earth, and the earth, ex nihilo, by the utterance of God. Consequently, folks who are put off by the resurrection of the dead will likely find the creation of the living a difficult pill as well.
It suggests that the real objection to the resurrection mystery is not so much over the process, but over what the process implies. Someone who is able to reassemble, refurbish, and reinvigorate our remains is Someone who can assert cosmic authority over us and make demands of us. And that is Someone some people would rather not think about, for now.