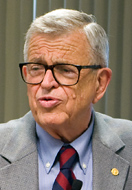 by Chuck Colson –
Embryonic stem cell research destroys human lives. And it's also destroying the credibility of scientific researchers, as well.
Many of us remember sadly when Ron Reagan, the son of President Ronald Reagan, spoke at the Democratic National Convention in 2004. Reagan said he was there to talk about research into "what may be the greatest medical breakthrough in our or in any lifetime: the use of embryonic stem cells…to cure a wide range of fatal and debilitating illnesses: Parkinson's disease, multiple sclerosis, diabetes" and more.
Reagan then invited listeners to imagine being diagnosed with Parkinson's disease, and undergoing a procedure that involves the use of embryonic stem cells. These cells would — if injected in the brain — replace the "faulty cells whose failure to produce adequate dopamine led to the Parkinson's disease in the first place." Reagan explained. "In other words, you're cured," he announced.