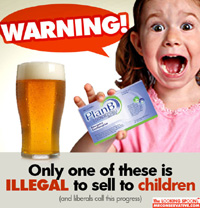 by Heather Mac Donald –
The paradoxes of liberal morality were on glaring display last week. The Obama administration OK'd the sale of "Plan B" post-coital emergency contraception over the counter without prescription (or parental consent) to girls as young as 15. At the same time, the City Council moved a step closer to banning anyone under the age of 21 from buying cigarettes (the legal age is now 18).
Apparently, a 15-year-old is a fully mature adult (a "woman," in nauseating feminist parlance) when it comes to deciding to have sex. But a 20-year-old, in the City Council's eyes (or a 17-year-old, under current law), can't be trusted to make her own informed decisions on smoking and must be restrained by the government.
The Plan B decision was still too restrictive for some abortion-rights and feminist groups. The New York Times, on cue, denounced the administration's "stubbornness" in setting any age restrictions on Plan B. [Read more…]