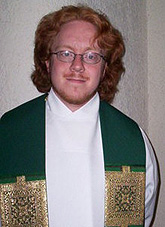 by Jennifer Hartline
Anyone unwilling to defend human life from the moment of conception has no pro-life theology. Rev. Matthew Westfox is stunningly deceived. His "reproductive choice" theology is not remotely pro-life. He is a mouthpiece for the culture of death.
After I finished reading Rev. Matthew Westfox's article entitled, "Resurrecting Pro-Life", I couldn't shake an image in my head of the father of lies smugly patting himself on the back for this one. A very delicious deception, indeed.
Rev. Westfox begins, "Christ the Lord is Risen Today" reminds me that Easter is a celebration of life itself and what Christians honor and revere about life. Easter reminds me of the respect and reverence for life that is at the core of my theology, that I am in my heart a deeply "pro-life" person."
That first paragraph left me with a vague uneasiness in my stomach, and the next paragraph got worse. A lot worse. [Read more…]