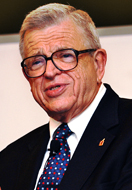 by Chuck Colson –
It's no secret that Christianity has been unwelcome in public schools for a long time. But recently New York City's government took an unprecedented step by forcing around 60 churches to vacate sanctuaries they pay to use.
Why? Because Monday through Friday, those sanctuaries also happen to be classrooms.
This deadline was set back in December, when the Supreme Court declined to hear an appeal of the 2nd Circuit's decision upholding the City's crass discrimination against communities of faith. New York at this time is the only major city in the nation to ban religious services in its school buildings. But this precedent does not bode well for what may happen in other cities.
The reasoning behind this decision was ludicrous. In his ruling, Circuit Judge Pierre Leval claimed that renting school property to churches implies "an unintended bias in favor of Christian religions," that makes public schools look like "state-sponsored Christian churches…but not synagogues or mosques." [Read more…]