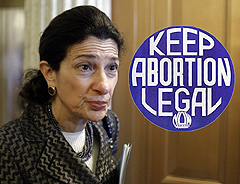 by Andrew Bair –
Late Monday afternoon, Senator Olympia Snowe (R-ME) sent shockwaves through Washington when she announced she would not seek reelection to the US Senate in November.
Snowe, long known as a centrist, cited the "partisanship" of Washington as the reason for her decision. While pro-life advocates may not hold Snowe in the highest regard, her Senate seat was viewed as a safe Republican seat heading into the November elections. Keeping Maine in Republican hands becomes a much more difficult task with Snowe out of the picture.
In 59 scored pro-life votes by the National Right to Life Committee, Snowe voted pro-abortion 46 times. Some of her worst offenses include voting against the ban on partial-birth abortion, against the Unborn Victims of Violence Act, against the Mexico City Policy, in favor of federal funding of Planned Parenthood and in favor of federal funding for embryonic stem cell research.