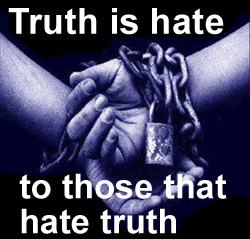 by Trevor Thomas –
The convictions of modern liberalism are numerous and growing: Abortion, homosexuality, hook-ups, same-sex marriage, gender confusion, man-made global warming, universal healthcare, income redistribution, and whatever is the next perversion or deceit that will strike at the heart of biblical truths.
When it comes to political "wars," in spite of the meme perpetrated by most liberals, no one is more hawkish than modern liberals and the political party that they own, the Democrat Party. By and large since the 1960s, their efforts are summed up by one succinct and extremely accurate appellation: a war on the truth.
In the history of our nation, only the pro-slavery Democrats of the 19th century rival the political deception employed by today's liberals that lead the modern Democrat Party. Support of everything from abortion, to gender perversions, homosexuality, pornography, a redefinition of marriage, wicked climate policies, and an enslaving welfare state have made today's Democrat Party little more than a modern-day Mephistopheles.