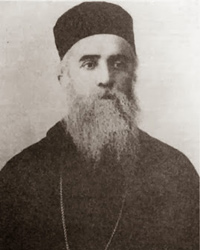 by St. Nektarios of Aegina –
Atheism is a mental disorder: it is a terrible ailment of the soul that is difficult to cure. Atheism is a passion that severely oppresses whomever it seizes. It holds in store many misfortunes for its captive, and becomes harmful not only for him but also for others who come into contact with him.
Atheism denies the existence of God. It denies that there is a divine Creator of the universe. It denies God's providence, His wisdom, His goodness, and, in general, His divine qualities. Atheism teaches a falsehood to its followers and contrives false theories concerning the creation of the universe. It professes, as Pythia upon a tripod,1 that the creation is an outcome of chance, that it is perpetuated and preserved through purposeless, random interactions, that its splendor transpired spontaneously over time, and that the harmony, grace, and beauty witnessed in nature are inherent attributes of natural laws.
Atheism detracts from God, Whom it has denied, His divine characteristics, and, instead, bestows them and His creative power to lifeless and feeble matter. [Read more…]