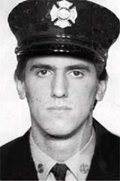 by Adam Leiter | Sep. 11, 2009
The best way for me to remember 9/11 is to remind everyone of my friend FDNY Firefighter Tommy Gardner, lost in the South Tower on 9/11/01.
He and I were in first grade class together at PS 107 in 1968, in Flushing, Queens, NY. We were in every grade and school together until we graduated high school in 1980. He joined FDNY in 1982. He was in several FDNY units, the last being Hazmat 1.