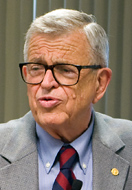 12/17/2010 – Chuck Colson –
Finally, a major news outlet reports on the persecution of Iraqi Christians. But I have to wonder if the Administration is reading the headlines.
On Monday the New York Times ran a lead paragraph to a story that's as chilling as any I've read in recent memory. Here it is:
"A new wave of Iraqi Christians has fled to northern Iraq and abroad amid a campaign of violence against them and growing fear that the country's security forces are unable or, more ominously, unwilling to protect them."
There, in one paragraph, the Times sums up the grim situation facing Christians in Baghdad and throughout Iraq. They are subject to a campaign of violence—not some indiscriminate acts by a few Islamist radicals. They are being harassed and killed right under the very noses of the Iraqi security forces and the government, and it is not clear at all that the government wants to stop it.