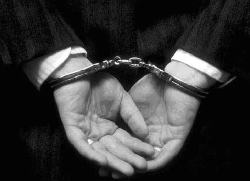 5/3/2010 – Sonja Corbitt –
What is going on in the UK? In what amounts to a legal rejection of the Right to Religious Freedom, it seems that Christians are a casualty of the homosexual equality/equivalency agenda. Apparently tolerance and equal protection under the law does not include those of the Christian faith.
Dale McAlpine, a British Baptist street preacher, was arrested and jailed on April 20 by a homosexual police community support officer (PCSO) for allegedly saying homosexuality is a sin according to the Bible.
McAlpine was publicly handing out pamphlets on the Ten Commandments with a church member when a passerby initiated a debate about his faith. When the exchange was over the woman was approached by the PCSO who spoke with her briefly, at which point the officer informed McAlpine that a complaint had been made for his use of homophobic language. [Read more…]