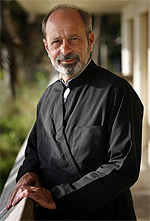 by Fr. Johannes Jacobse –
When the light shines, the darkness is made manifest scripture tells us and nowhere is this clearer than in the debate about the morality of homosexuality in the Orthodox Church in America (OCA). Most readers know that this debate is heating up, driven in large part by the Facebook group Listening: Breaking the Silence on Sexuality within the Orthodox Church.
True to its tendentious name (there is no "silence" that needs "breaking"), the group follows the playbook of homosexual activism that crippled the Episcopalian Church: Accept the premise that the prohibitions against homosexuality need to be "revisted" (a favorite phrase) and thereby undermine the authority of the moral tradition. Refuse and you will castigated as unloving, uncharitable, closed-minded, ignorant, homophobic, responsible for teen suicides — all the usual pejoratives that are foisted on those who disagree. It's all done with a smile of course. Call it intimidation through church-speak.
The OCA is hampered with the problem of homosexuality because past leaders were active homosexuals. These leaders did not champion the homosexual agenda, but because they were morally compromised the homosexual behavior in some ranks of Church leadership went unchallenged. [Read more…]