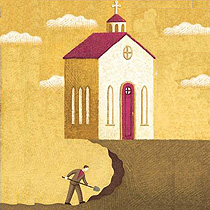 by Fr. Johannes L. Jacobse –
Progressive fads sweep through the culture like clockwork. Remember the impending global ice age in the 1970s that morphed into global warming today? How about the fight about abortion where anyone who dared criticize it was branded as a hater of women? Remember the Equal Rights Amendment and how convinced its supporters were that it was absolutely necessary for a just society?
None of these movements should be taken lightly of course but that doesn't disqualify them as fads. There is always a strong strain of self-justification among Progressive Culture Warriors; a posturing that creates a facade of virtue and labels the critic as ignorant. Fellow travelers bask in that warm glow of imputed righteousness that they generously confer on each other. The rest of us can return to our caves.
That kind of arrogance informs the new Facebook group "Listening: Breaking the Silence on Sexuality with the Orthodox Church." The tendentious title is the first clue something is seriously skewed. What silence needs to be "broken"? Who are the people breaking it? Is the Orthodox Church really silent on sexuality? [Read more…]