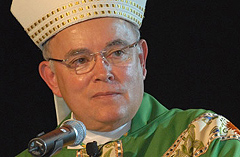 by Archbishop Charles Chaput –
Paul Claudel, the French poet and diplomat of the last century, once described the Christian as "a man who knows what he is doing and where he is going in a world [that] no longer [knows] the difference between good and evil, yes and no. He is like a god standing out in a crowd of invalids . . . He alone has liberty in a world of slaves."
Like most of the great writers of his time, Claudel was a mix of gold and clay, flaws and genius. He had a deep and brilliant Catholic faith, and when he wrote that a man "who no longer believes in God, no longer believes in anything," he was simply reporting what he saw all around him. He spoke from a lifetime that witnessed two world wars and the rise of atheist ideologies that murdered tens of millions of innocent people using the vocabulary of science. He knew exactly where forgetting God can lead.