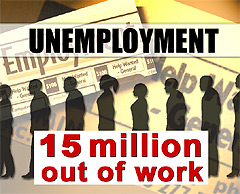 7/14/2010 – Conn Carroll –
Last week the Obama administration began rolling out new campaign titled, we kid you not, "Yes, we did." Did what exactly? Waste nearly a trillion dollars on an economic stimulus that by every objective measure has completely failed to perform as advertised? Then yes you did. A new CBS poll out today shows that 74 percent of Americans believe the Obama stimulus either damaged the economy or had no effect. Clearly the White House is on a different planet than the rest of the country.
In another dispatch from Planet Obama, the White House Council of Economic Advisers released a report today purporting to prove that President Obama's stimulus has saved or created 3 million jobs and is on track to meet its goal of 3.5 million jobs by the end of this year. Where do they come up this slop?