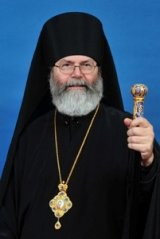 Beloved Clergy and Faithful of the Diocese of the Midwest,
Christ is in our midst!
Therefore God also gave them up to uncleanness, in the lusts of their hearts, to dishonor their bodies among themselves, who exchanged the truth of God for the lie, and worshiped and served the creature rather than the Creator, who is blessed forever. Amen. For this reason God gave them up to vile passions. For even their women exchanged the natural use for what is against nature. Likewise, also the men, leaving the natural use of the woman, burned in their lust for one another, men with men committing what is shameful, and receiving in themselves the penalty of their error which was due." (Romans 1:24-27)
In light of the ongoing discussions and debates about "same sex marriage", I felt the need to address our faithful concerning this issue. Although it would appear to me that the Church doctrine and Scripture has been clear about this issue, there are those who "twist" the Scriptures and the Canons of the Church to fit their own needs. We have always believed that the interpretation of Scripture lies within the framework of "Holy Tradition" and the experience and interpretation of the Holy Fathers before us. Who are we to interpret the Scripture outside of this Sacred Tradition? Only those, who do not have the light of Christ, will interpret Scripture to their own ends.
In the above passage from Romans, St. Paul writes that because of the "lusts of their hearts," they exchanged the truth of God for the lie. [Read more…]