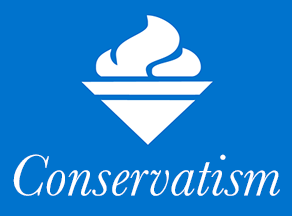 by Alfred Regnery –
The basic foundations of American conservatism consist of liberty and freedom, tradition and order, rule of law, and belief in God.
Over the past half century, conservatism has become the dominant political philosophy in the United States. Newspaper and television political news stories more often than not will mention the word conservative. Almost every Republican running for office—whether for school board or U.S. senator—will try to establish his place on the political spectrum based on how conservative he is. Even Democrats sometimes distinguish among members of their own party in terms of conservatism.
Although conservatism as we know it today is a relatively new movement—it emerged after World War II and only became a political force in the 1960s—it is based on ideas that are as old as Western civilization itself. The intellectual foundations on which this movement has been built stretch back to antiquity, were further developed during the Middle Ages and in eighteenth- and nineteenth-century England, and were ultimately formulated into a coherent political philosophy at the time of the founding of the United States. In a real sense, conservatism is Western civilization.