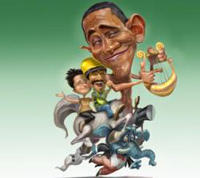 by Jeff Bergner –
Sometimes talking with liberals is perplexing. You never know what claim they will make next or what name they will call you. Take David Axelrod's response to Standard & Poor's recent credit action: He calls it the "Tea Party downgrade." Amazingly, he blames the United States' loss of its AAA bond rating on the one group that has sounded the alarm about our fiscal crisis. How did the president's leading adviser come up with a label so detached from reality?
Comforting as it would be to dismiss this as a one-off comment, Axelrod's words spring from the mental universe of liberalism. It is a vast sphere of assumptions that are found nowhere else. In an effort to promote the civility of debate that is so much in demand these days, here is a compendium of the myths underlying some of the strange things liberals say.
Myth #1: Conservatives are outside the American mainstream. Conservatives can't be mainstream because it is liberals who speak for the American people.