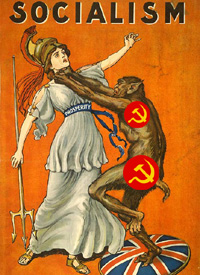 by Mark Judge -
People who argue against reducio ad Hitlerum, the tendency to reduce every political argument to a Hitler comparison, usually have a good point. Welfare reform was not the Third Reich. Neither is environmentalism.
Yet in rejecting Hitler argument, people have forgotten an important aspect of totalitarianism: its pettiness, and how that pettiness can morph into greater forms of repression.
Many totalitarian states don't start by shoving people into death camps. Most begin by micromanaging everyday life. This is why I fear liberalism so much.
For the past several decades the left hasn't resembled Stalin liquidating millions — although pro-life people could make that case — but rather the nitpicking, control-freak oppression of a low-level bureaucrat in a new totalitarian regime. [Read more...]