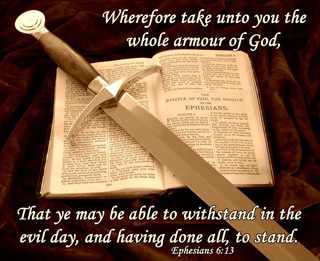 by Anthony Esolen –
Truth is truth to the end of time. Even if the battle appears lost, let each Christian raise one sword at least against the lie. Even if the fight is fierce, the warfare long, let each Christian remember that our Captain triumphed in and through the hour of His utter defeat upon Calvary.

One day, said St. Jerome, the world awoke and groaned to find itself half Arian. It was the reasonable position of the time, bearing all the marks of historical inevitability. It shrugged away the most challenging points of Christology, for if Christ was but a creature, a Platonic demiurge, we need not puzzle our minds over how God might be both one and three. We need not be stunned into reverence by the words, "The Word was made flesh, and dwelt among us," since the Word was, in a sense, already "flesh."
Arianism was an easy slide. Most of the bishops leaned that way; it was the way of the well-stuffed. But Athanasius rose up contra mundum, the single-minded saint whom his opponents derided and often exiled for his bigotry. Athanasius was on the wrong side of "history." Good for him; Christians must always so station themselves. Our Lord was murdered on Calvary by the great dead historical hulk called the Roman Empire.