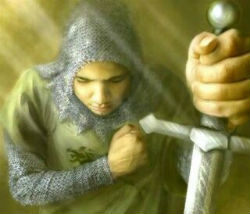 by Michael Terheyden -
In the Face of Secularism, What is needed is a Defense of the ancient yet ever new faith which sets people and Nations free
The Obama administration's unconstitutional mandate regarding birth control coverage reminds us that we live in the age of secular humanism, when many people no longer believe religious faith is reasonable or important.
The message this administration sends to Christians is that our faith is bad for modern society, and we will no longer be allowed to live according to our beliefs in this nation. Therefore, as we prepare to enter into the deepest mysteries of our faith this Lenten season, perhaps it would be helpful if we compare the reasonableness of our faith with secular humanism.
The renowned Catholic theologian Germain Grisez provides us with excellent information on this subject in Volume 2 of his book, Living A Christian Life. This article was inspired by the excerpts in the section on faith which focus on secular humanism's claim that Christianity is not rational, scientific or tolerant. But before I proceed, I want to be clear about how I use the term "secular humanism." [Read more...]