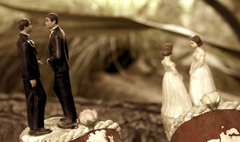 by Fr. Lawrence Farley –
Like it or not, homosexuality is not a private proclivity like other sins; it is a powerful movement, and one that now demands the surrender of Christian conscience.

Not so long ago, voices were raised and lawyers were sharpening their swords in America's latest battle in the ongoing culture war. The owner of Masterpiece Cakeshop in Colorado was threatened with a fine and up to a year's incarceration for refusing to bake a cake for a gay wedding. In New Mexico, a photographer was similarly threatened for refusing to photograph a gay wedding. In Arizona, a bill was put forward which aimed at protecting the rights of those who wanted to opt out of participating in such weddings if such participation would violate their conscience. The governor of Arizona vetoed the bill. Owners of businesses now have no legal right to decline to provide their services for gay weddings, however abhorrent the weddings may be to their consciences.