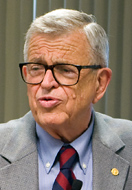 by Chuck Colson –
Did you know that shopping online could be considered a homophobic activity? Neither did I.
Imagine that your laptop finally gives up the ghost. You have several options: You can drive to the store and buy a new one, or you can shop online.
If you choose the latter, you have another option: You can buy it from an online retailer, or you can connect to a retailer via a portal. Why? Because some portals, like CGBG, split its share of the profits with a charity of your choice.
It's as close as shopping gets to "win-win" in our consumerist culture.
That is, of course, until someone objects to the charities who are receiving a share of the profits. And you won't be surprised at who is making the objections.
Among the charities CGBG shares its profits with are the Family Research Council and Focus on the Family. In July, a petition asking Microsoft to stop doing business with CGBG hit the Web. The organizer, "Stuart Wilber, a 73-year-old gay man in Seattle," in the words of the New York Times, says that he was "astonished" that people could buy Microsoft products through CGBG. [Read more…]