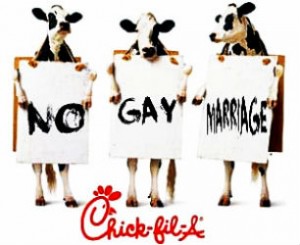 by Catholic Online –
Fast food chain Chick-fil-A takes pride in espousing Christian values, closing all of its 1,600 restaurants every Sunday. The chain also handed out fliers in protest of the controversial Bible epic "The Last Temptation of Christ" in 1988. Now, Chick-fil-A's President Dan Cathy's recent comments on defending true marriage have stirred controversy – on online communities and elsewhere. …
"Guilty as charged," Cathy said when asked by the Baptist Press about his company's support of the traditional — as opposed to gay marriage.
"We are very much supportive of the family – the biblical definition of the family unit. We are a family-owned business, a family-led business, and we are married to our first wives. We give God thanks for that," Cathy said.
Response to Cathy's comments has been vituperative online. The comments have made Chick-fil-A the top Google trend as the company's Facebook and Twitter pages were burning up with arguments. [Read more…]