Investor's Business Daily | July 14, 2009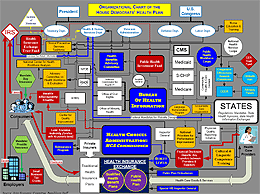 Socialized health-care is being rammed down the throats of the American people. Leftist schemes that have been a dismal failure under communist and socialist countries are now here!
The legislation includes big tax surcharges on the rich, a public plan and fines on employers that fail to provide coverage and individuals that don't get it. Hoping to regain momentum after several stumbles, top House Democrats insist that they'll move before the August recess.
The bill's coverage provisions will cost $1.042 trillion over 10 years, according to a preliminary Congressional Budget Office analysis. Virtually all would come in the last seven years.
With voters' deficit fears growing almost as fast as America's red ink, Democrats have scrambled to pay for reform's huge costs.
Surcharge Howls
The updated House proposal — a joint effort of Ways and Means, Education and Labor, and Energy and Commerce — includes an income tax surcharge. It would impose a tax of 1% of families with incomes between $350,000 and $500,000, and an additional 1.5% for those earning $500,000 to $1 million. It would rise to 5.4% for couples making over $1 million.
The surcharges — on top of expiring Bush tax cuts on the rich — would go higher if cost savings in the bill don't materialize.
The tax hikes may be the biggest sticking point with Blue Dogs. "No," replied Rep. Dan Boren, D-Okla., when asked if he could support a surcharge.
Cooper's aide said his boss "won't rule anything out, but it's not his preferred option for achieving budget neutrality."
Republicans have slammed the surcharge as an attack on small businesses. Minority Whip Eric Cantor, R-Va., used the surcharge to ask Obama to join Republicans "in a pledge not to impose taxes on small-business men and women."
But Obama praised the House bill, saying it will "begin the process of fixing what's broken."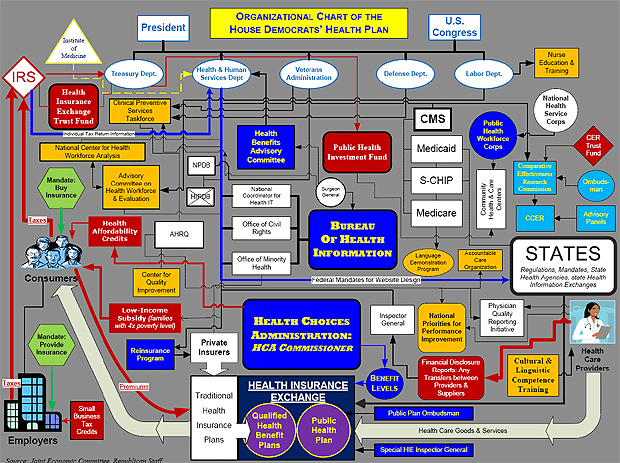 click for high rez image
Fines And Medicare Cuts
The House plan would fine employers who fail to offer health insurance and individuals who fail to get it. Small business in particular opposes an employer mandate.
The legislation also relies heavily on Medicare cuts to finance the program. They include $202 billion by reducing hospital readmissions and tweaking other calculations that would mean hospitals, home health agencies and other providers get less money than under the current system.
. . . more